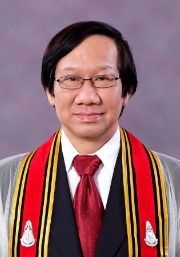 Kamphol Laohapensang,
M.D., F.A.C.S., F.S.V.S.
President Thai Vascular Association
Dear Members and Colleagues,
In the early 1995s group of surgeons saw the importance of a society for the surgeons in Thailand practicing vascular surgery. We discussed the formation of the society during the conferences and meetings.
With the Thai Vascular Association (TVA) established in 2007, we have our independent Vascular Fellowship training and examination program. We communicate with the Asian Society for Vascular Society (ASVS) and Vascular societies around the world to exchange knowledge and experiences. 
I would like to thank the members of the TVA for the opportunity to serve as your President. I am proud and humbled to have this role in this Association that has always demonstrated innovation and leadership.
I am pleased to report that, the Thai Vascular Association (TVA) held many successful "hybrid" and "virtual" Symposiums and Conferences in the following year. Despite the restrictions associated with the COVID -19 pandemic, we were able to re-emerge the educational Program using a combination of in-person and remote faculty, speakers, and presentations with appropriate social distancing and safety guidelines. Notwithstanding a limited in-person attendance, it was clear that both the intellectual discussions and camaraderie so typical of our Symposiums and Conferences had been missed by all.
Vascular people are extroverts and sociable we love to meet each other face-to-face, chat, discuss and go out for dinner together.
Thank you and hope to meet you soon.
Respectfully,
Kamphol Laohapensang, M.D., F.A.C.S., F.S.V.S.
President Thai Vascular Association